We have 33 freshwater tanks with a large selection of tropical & coldwater fish, invertibrates, aquatic amphibians and live plants to enhance any home aquarium. Our fish are backed by our 5 day guarantee, and we have free aquarium care sheets available.
We carry live feeder goldfish, rosy red minnows and guppies, as well as a large selection of frozen and dry specialty fish foods.
View our LIVE FOODS price list by clicking here.
We also carry a complete line of aquarium accessories to keep your tank up and running and looking it's best.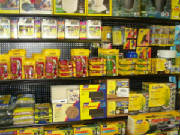 We also carry a complete line of Laguna Pond supplies for your outdoor pond or water garden! Everything from filters and chemical additives to beautiful koi, shubunkins and pond plants!
Please visit our store to view our current selection of freshwater fish and aquarium and pond accessories!